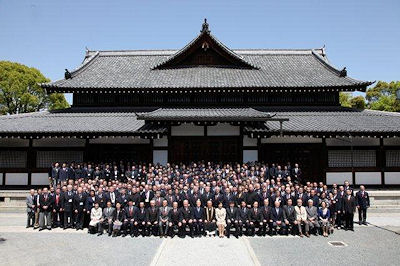 The Fourth World Butoku Sai: April 29, 2012
April 25-30, 2012 the Fourth World Butoku Sai and Fiftieth Japan Butoku Sai were held in Kyoto Butokuden with almost 300 participants from 22 nations in DNBK International Division and 350 participants from Japan. This was a major historic milestone event which produced most impressive and inspiring impact to all those who attended. DNBK upheld the long-standing historic traditions by stressing the significance of Butoku, martial virtues. All international members proudly represented their dojo and displayed their outstanding skills demonstrations in the Budo disciplines they have been training. It was an epoch aspiring gathering of noble Budo trainees with mutual respect and great humility that etched in their memories on the finest sharing of Budo spirit.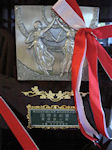 This emblematic plaque was presented to Tesshin Hamada by Sosai Higashifushimi at the Opening ceremony of 4th WBS in April 28, 2012, and it was pledged to bear all participants names in the back of this plaque by Tesshin Hamada where he acknowledged the designation of this award being bestowed to all participants.
The following photos are some of the samples out of 2000 images in demonstration skills which took place in April 29th. Official photographer of DNBK ID was Motoya Nakamura from Oregon USA.
| | | | |
| --- | --- | --- | --- |
| 10 photos | 10 photos | 10 photos | 5 photos |
Without formal permission from DNBK ID, any part of the photos cannot be allowed to be duplicated due to copyright restriction. Your full cooperation is greatly appreciated.
The Office of DNBK ID, USA and Japan